I am so excited to share with you this tissue paper garland DIY tutorial for some Halloween front door decoration that I shared on A Blissful Nest's blog. I was inspired by this one from Pottery Barn Kids and don't get me wrong I LOVE theirs, but I need to pick and choose what I buy from there because I want the whole store.
I also decided to give mine a little more pizzazz, and opted to use shiny gold foil as opposed to linen or burlap.
SUPPLIES NEEDED:
-1 yard plain black fabric
-1 yard plain orange fabric
-10 Sheets Mylar gold foil tissue paper (or 1 yard linen fabric to copy Pottery Barns Version)
-Roll of Jute
-Scissors
This little project was SERIOUSLY super easy, and took me about an hour from start to finish. I started by measuring the jute around my whole front door frame. After I had that cut I started cutting out rectangles of fabric (no exact size just eyeballing it). Then cut strips on 1 side but stopped towards the middle. After you cut strips on 1 edge you flip and do the other end still stopping towards the middle so you don't cut any strips off, and they all dangle.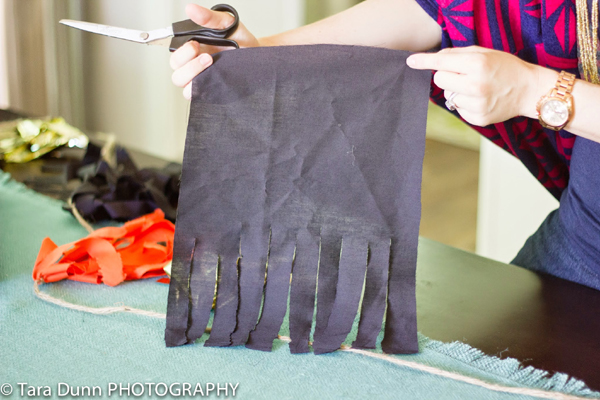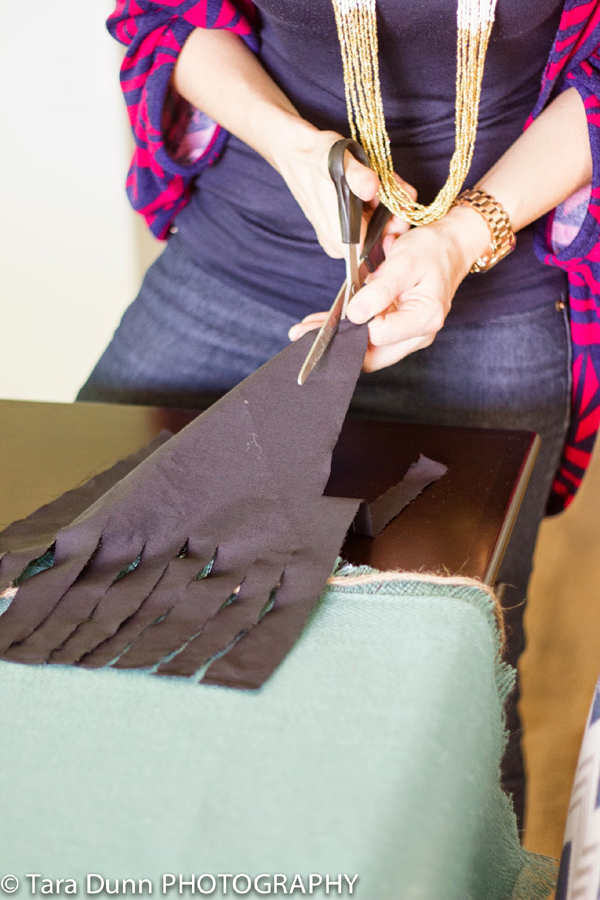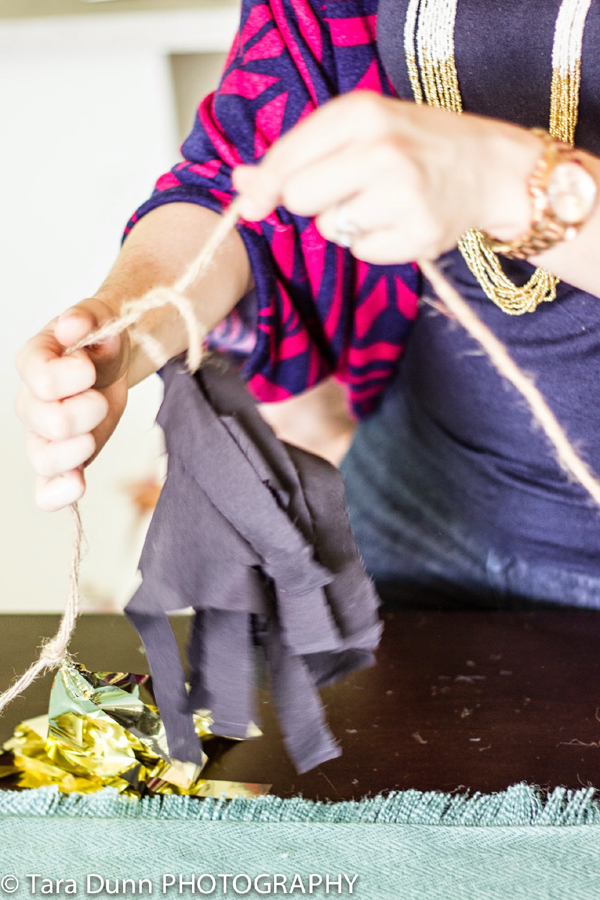 Then once each set of strips was cut I grabbed it in the middle and tied it to the jute. I put mine the distance that was open between the strips so no jute was showing between tassels.
I spent $11.00 on my jute and fabric (I already had gold foil paper) let's just say this is about $48.00 cheaper that their version. I also picked up this skeleton for $15.00 at Target–now it is not as cute as theirs, but again it was a drastic savings.
That is it–seriously you could do this during a nap time, and even get it hung on the door!!! I would LOVE to see if you try this out so please tag me on instagram if you do @sassysoirees! Happy Halloween!!!
*Photos by Tara Dunn Photography